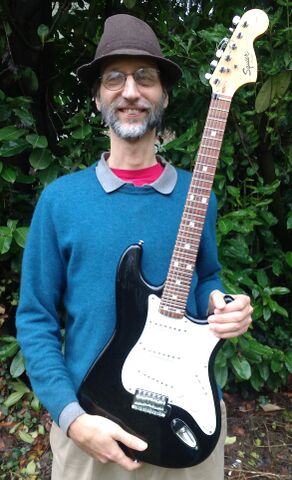 Date/Time
Date(s) - 04/25/2021
6:00 pm EDT - 7:00 pm EDT
Categories
This event follows our previous event (4/11/21) which you can watch at the event at https://redirect.invidious.io/watch?v=PD-4sQAW5cY (Invidious is a service for viewing YouTube videos, while avoiding Google's systematic tracking and protecting your freedom.)
April 25th with Team Kite!
Join us for a Q&A session with the folks of Kite Guitar (www.kiteguitar.com). They will answer your questions (e.g. "Why 41–what is special about this number?" After the Q&A, Kite G. will demo his new 41EDO ear trainer. Event is Sunday, 4/25/21 at 3PM PST (6PM EST).
Q&A with the Kite Giedraitis, Aaron Wolf, and Timmy
For those who have questions regarding the concepts brought up at 4/11's event, please bring them to the event. This event will be a great time to ask!
41EDO Ear Trainer Demo by Kite G.
Come see Kite demonstrate his ear trainer software for 41edo. It tests your ear with melodies, intervals and chords. It uses artificial intelligence to choose notes and chords that are musically related. In fact it doubles as an ambient music generator! It also teaches 41edo notation. It shows how to name any note or interval or chord, and for every key it shows various types of key signatures. It also has a hands-free mode that lets you play along on Kite guitar. You can run it using a foot pedal, or just set it to autoplay at whatever tempo you want. Time permitting, Kite will demo some of his other midi software, most of it microtonal.
See some of the screenshots below.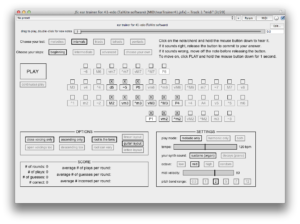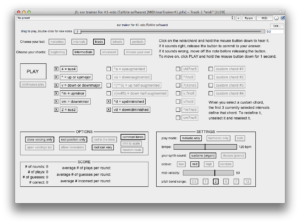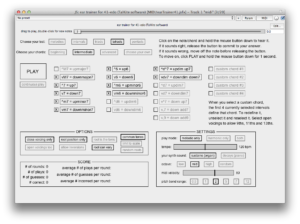 What does registration get you? Registration puts you on a mailing list to receive the link to the event as well as event-related updates. You may register for free (gratis) or choose to support us by registering with "supporter ticket". Both tickets give you the same access to the event. The funds of which will be allocated for Music+Code creation (click here for details), and you will also receive a branded USB with Music Blocks software! Music Blocks is the visual programming language created by MAP instructors Walter Bender and Devin Ulibarri, and is a great way to explore music, math, and programming. Note: To ensure you receive a Branded  USB, please 1) register with a mailing address, or 2) email us your mailing address soon after registration.
Special Note: There is no planned YouTube Live stream/recording for this event. This event will be held entirely on Jitsi and/or Big Blue Button.
Bookings
Bookings are closed for this event.