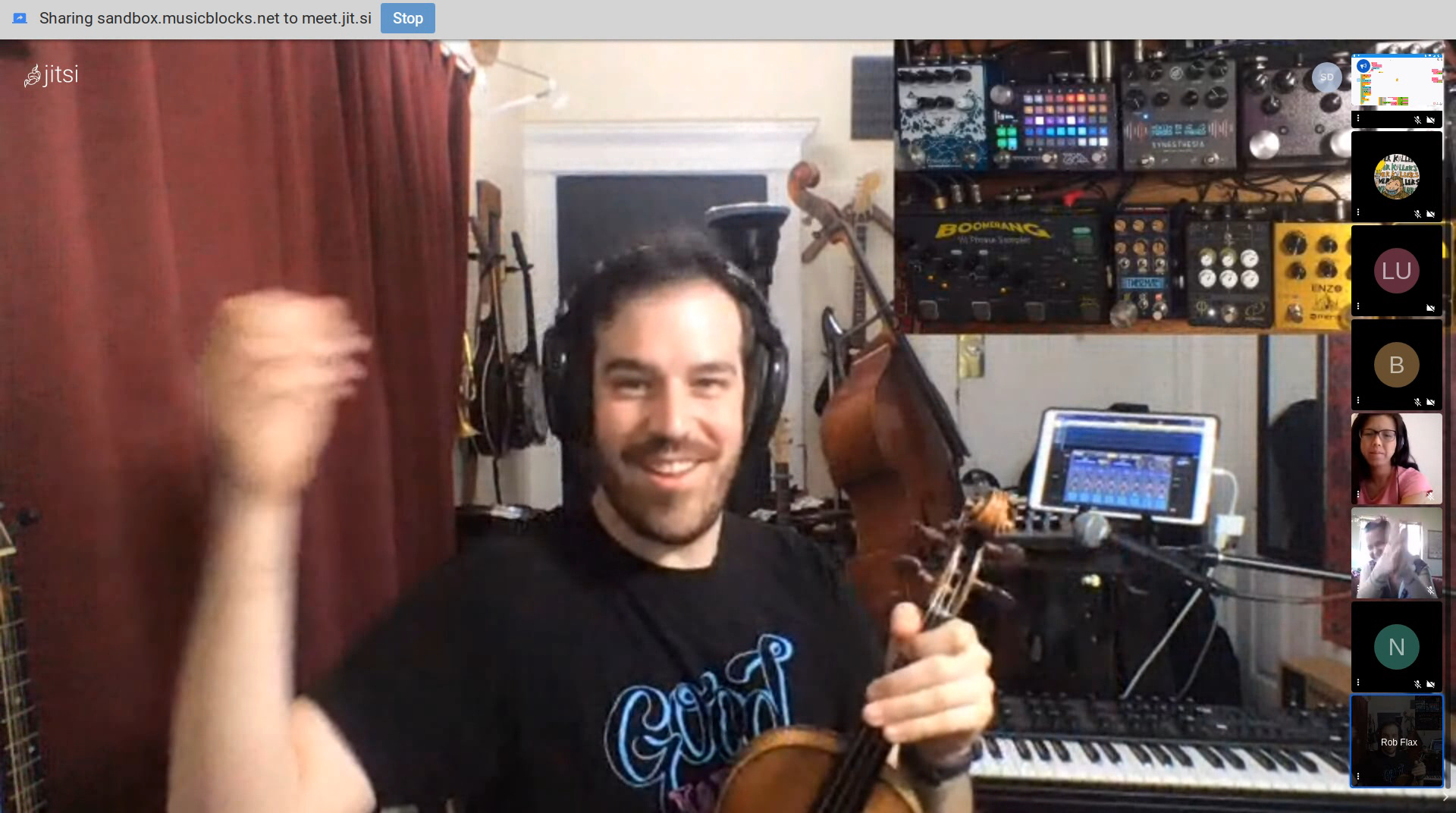 Last November we hosted polymath musician Rob Flax to kick off our Music+Code crowdfunding campaign. Rob played a variety of music, including his latest single, but most of the music centered around math and music in some way. You can check out selected samples from the concert below.
Fractal Hornpipe
Rob started the concert with his original composition, Fractal Hornpipe. The melody to fractal hornpipe has the structure of a fractal while still being musically satisfying. Click on the player below to listen to his live performance.
Fractal 2
After Rob's wonderful performance of "Fractal Hornpipe, he then performed "Fractal 2". This piece is composed from a snippet of "Fractal Hornpipe". The rationale, as he explained it is that because fractals go on forever it would be nice to have Fractal Hornpipe be the start of other music (i.e. and not be a dead-end in fractal creation/similarity).
Factorial's Revenge
Next, Rob played an interesting piece that he co-created with one of his patron's (who is also a polymath musician) who also attended the concert (and also contributed to the campaign — thank you, Lynz!). The piece features a sequence of repeated notes that ends up to be a factorial (i.e. 4, followed by 3, then 2, and 1).
Grand Finale: Rob plays with Music Blocks
To end the concert, Rob played together with Music Blocks, visual programming language. MAP instructor, Devin Ulibarri, created a script (i.e. some computer code) that created randomly generated music to perform together with Rob. Rob Flax, being a master improvisor, created melodic phrases on the fly to respond to Devin's program.
What is Music+Code Crowdfunding Campaign?
Rob's concert is the first in a series of performances to promote our Music+Code crowdfunding campaign. The campaign is a fundraising effort to hire professional musicians to be featured artists on videos for our Music+Code curriculum. MAP instructors Walter Bender and Devin Ulibarri are leading the effort to create Music+Code lesson plans which you can check out right here on the MAP website. Rob was a great choice to start the campaign because he knows math and music very well, and the Music+Code curriculum is very rich in musical and mathematical concepts.
How you can participate in Music+Code Crowdfunding Campaign?
Here are three ways that you can participate in the Music+Code crowdfunding campaign.
Note: Audio recordings (without video) on this page are copyright (2020) of Rob Flax (i.e. recorded by Rob Flax) and are used with permission. Video on this page is copyright (2020) of Remake Music, LLC. All works are copyright under Creative Commons Share-Alike 4.0 license.